Pendleton Holds Annual Volunteer Recognition Ceremony
USMC Official | Written by Sgt. Valerie C. Eppler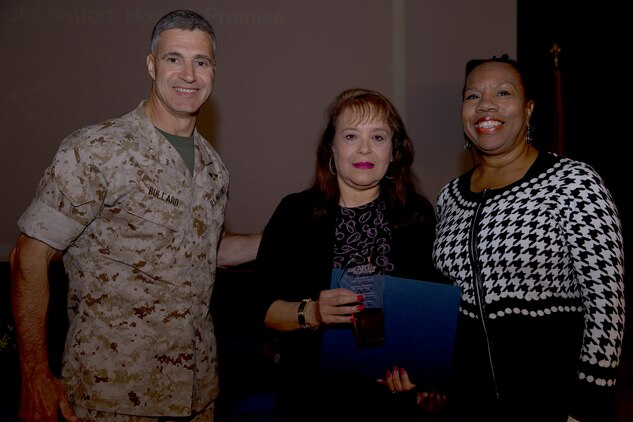 2014 Volunteer Recognition ceremony. Representatives for Words of Comfort, Hope and Promise, the team awarded with the Team Volunteer of the Year award, pose with Brig. Gen. John W. Bullard, commanding general of Marine Corps Installations-West, during the 2014 Volunteer Recognition Ceremony at the Pacific Views Event Center April 10. More than 6,000 military and civilian volunteers from several units on Camp Pendleton accumulated a total of 110,461 hours of volunteer service in 2013.
CAMP PENDLETON, Calif. — Military and civilian volunteers were awarded for their acts of service at the 2014 Volunteer Recognition Ceremony held at the Pacific Views Event Center here April 10.
All the nominees and their command staff were invited to attend because the winners were not notified until their names were announced during the ceremony.
Volunteers were awarded in the following categories: Volunteer of the Year, Large and Small Volunteer Units of the Year, Small Team of the Year (3+ volunteers).
The winners for 2013 were:
Civilian Volunteer of the Year – Ashley Hendrickson
Military Volunteer of the Year – Petty Officer 1st Class Eric Foster
Team Volunteer of the Year – Words of Comfort Hope & Promise
Youth Volunteer of the Year – Cara Martin
Small Volunteer Unit of the Year – Combat Logistics Battalion 11, 1st Marine Logistics Group
Large Volunteer Unit of the Year – Naval Hospital, Camp Pendleton
The volunteer nominees were nominated by their peers, volunteer coordinators, or commands.
All of the nominations were evaluated and scored by a six-person Volunteer Selection Committee, which included one field grade officer, one senior staff noncommissioned officer, one NCO, one military spouse, one volunteer, and one Marine Corps Community Service employee.
Candi Heinberger, the volunteer and skills development program coordinator here, said in 2013 the number of registered volunteers on Camp Pendleton was greater than 6,000, and the total hours of volunteer service recorded was 110,461 hours. In 2013, the national average for volunteer service was valued at $24.75 per hour. Therefore, Camp Pendleton saved more than an estimated $2.7M in labor costs.
All nominees receive the President's Volunteer Service Award, according to Heinberger. This is a prestigious award that gives presidential recognition to people of all ages and organizations who have demonstrated a sustained commitment to volunteer service.
April 15, 2014